****We are about to begin the process of moving our shop into a larger facility.  Unfortunately we are an extremely small company, so during this time, we will not be able to produce any new inventory.  We will be back online spring of 2018.  The online store should properly reflect our current inventory on hand.  We will still be able to ship in stock items during this transition phase but will not be able to build any custom orders or build any standard items.

 

We are terribly sorry for any inconvenience this creates for our customers.  This move will help us better serve all of you in the future.****




Our Custom shop can custom build either a premium model or elite model belt display case to fit any number of belts.  We can stain them any General Finishes water based stain color.  We can make them out of any wood species. 

The questions are:
Which model of custom belt display do you want?
How many belts do you need to display?
What wood species do you want?
What color do you want it to be?

Email or call to discuss what you would like.  www.stunningwoodwork@gmail.com  219.863.0485



Go to www.stunningwoodwork.com/custom-martial-arts-display-cases.html for more information about our custom displays.


Elite model 5 Belt Brazilian Jiu Jitsu belt display case - Black walnut wood with clear EnduroVar finish

Elite model 5 Belt Brazilian Jiu Jitsu belt display case - Black walnut wood with espresso stain and satin finish.  Black walnut is a classic wood that everyone can appreciate.  It has clean grain with just the right amount of character to give a clean crisp appearance.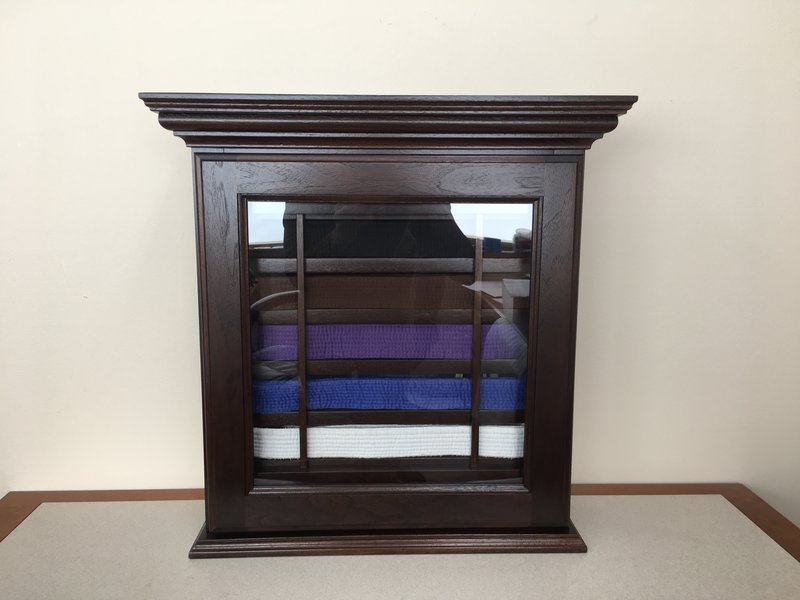 ---
Elite model BJJ belt display cabinets - Real cherry wood with custom dye finish next to our standard Poplar wood case with black cherry stain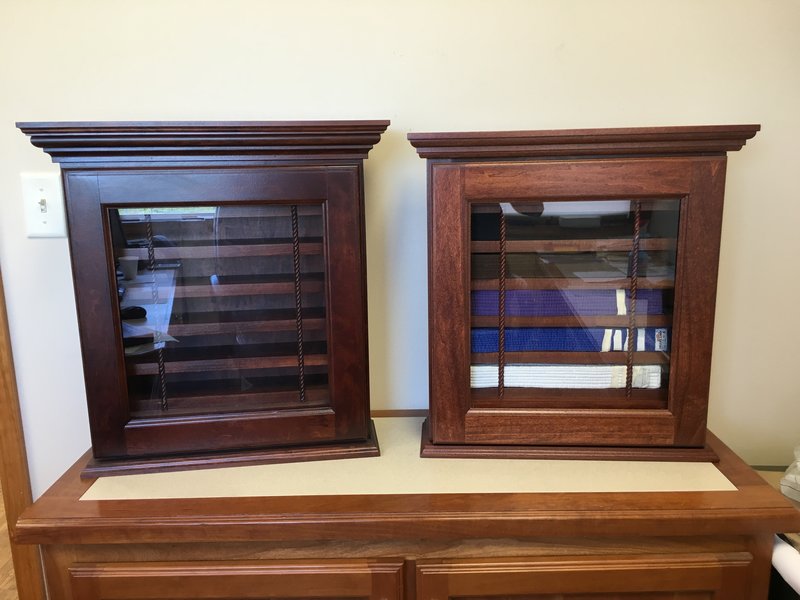 ---
Elite Model 5 belt brazilian jiu jitsu belt display case next to a 10 belt karate belt display case - Both are made from Cherry wood with a custom deep penetrating dye finish.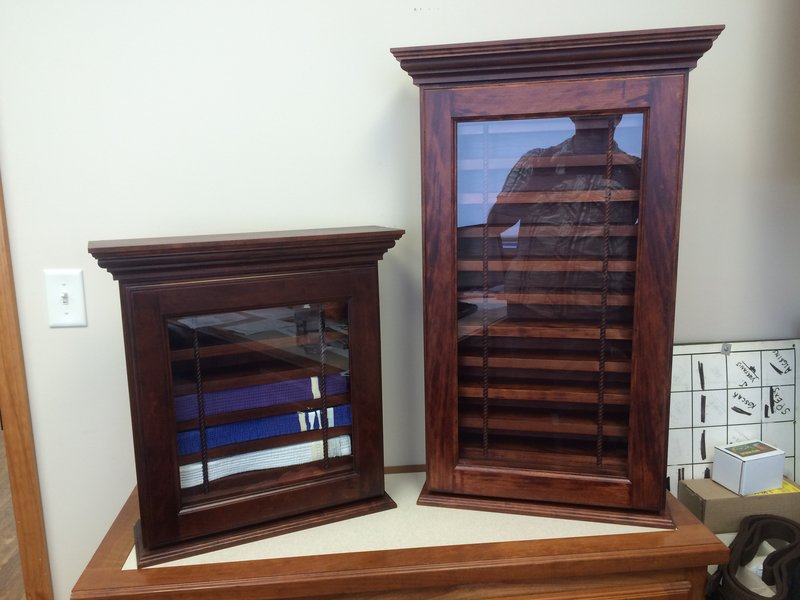 ---
Elite model belt display cabinet - Oak wood with early american stain color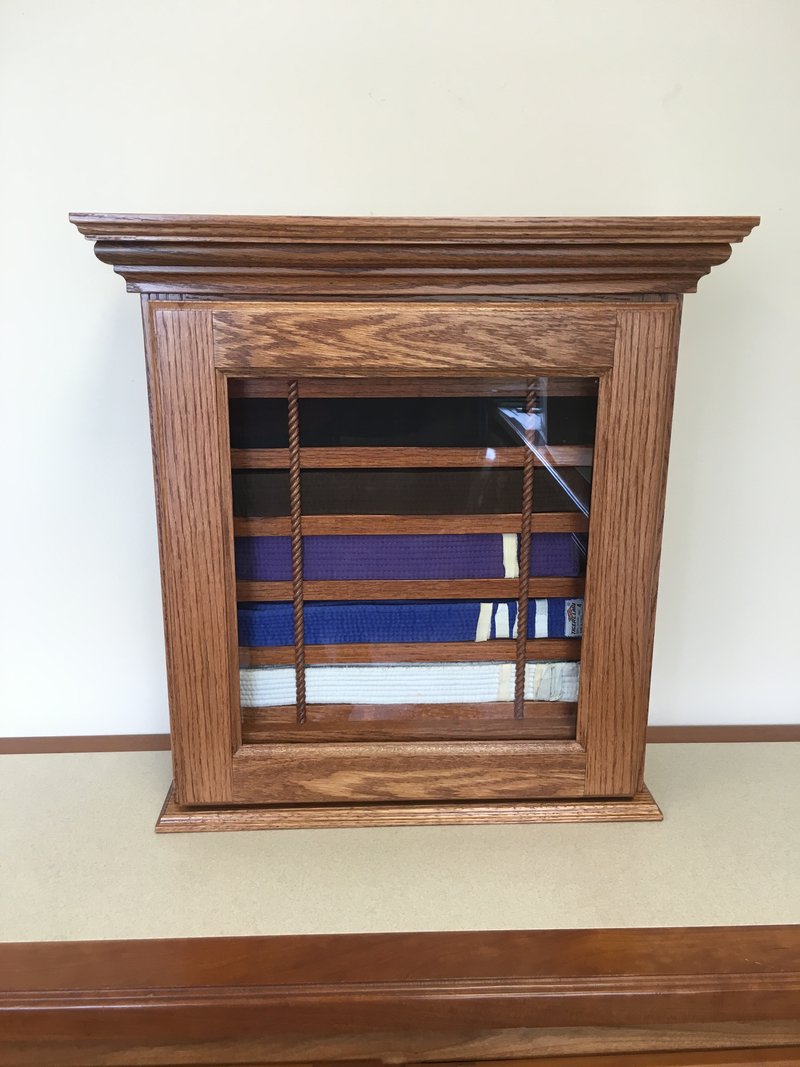 ---
Premium model belt display rack - Cherry wood with custom dye finish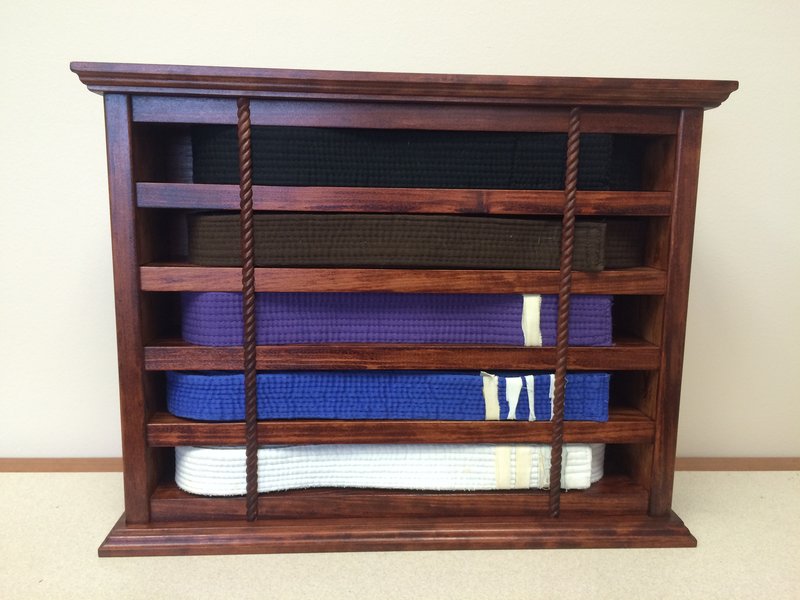 ---
Premium model - Custom width bjj belt display case - This is our standard poplar wood with a black cherry stain color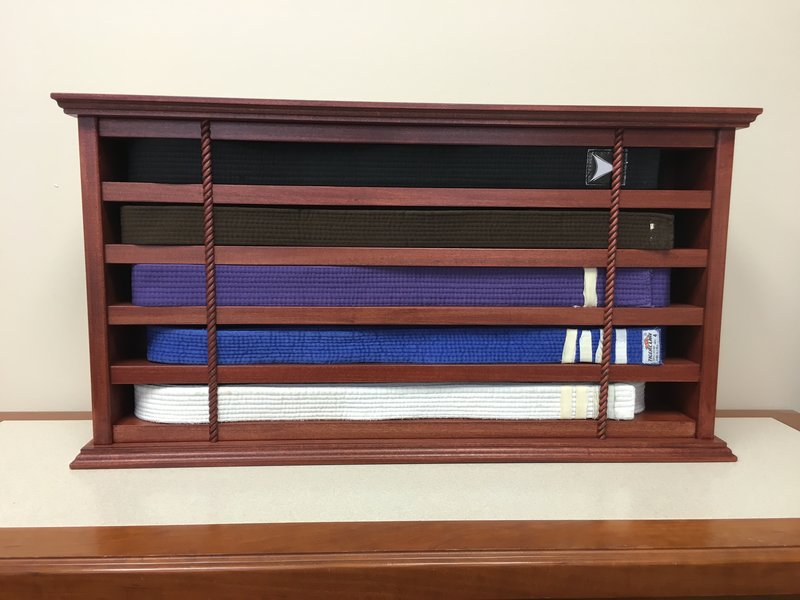 ---

Elite Model - Custom belt display cabinet.  This customer needed to display 6 belts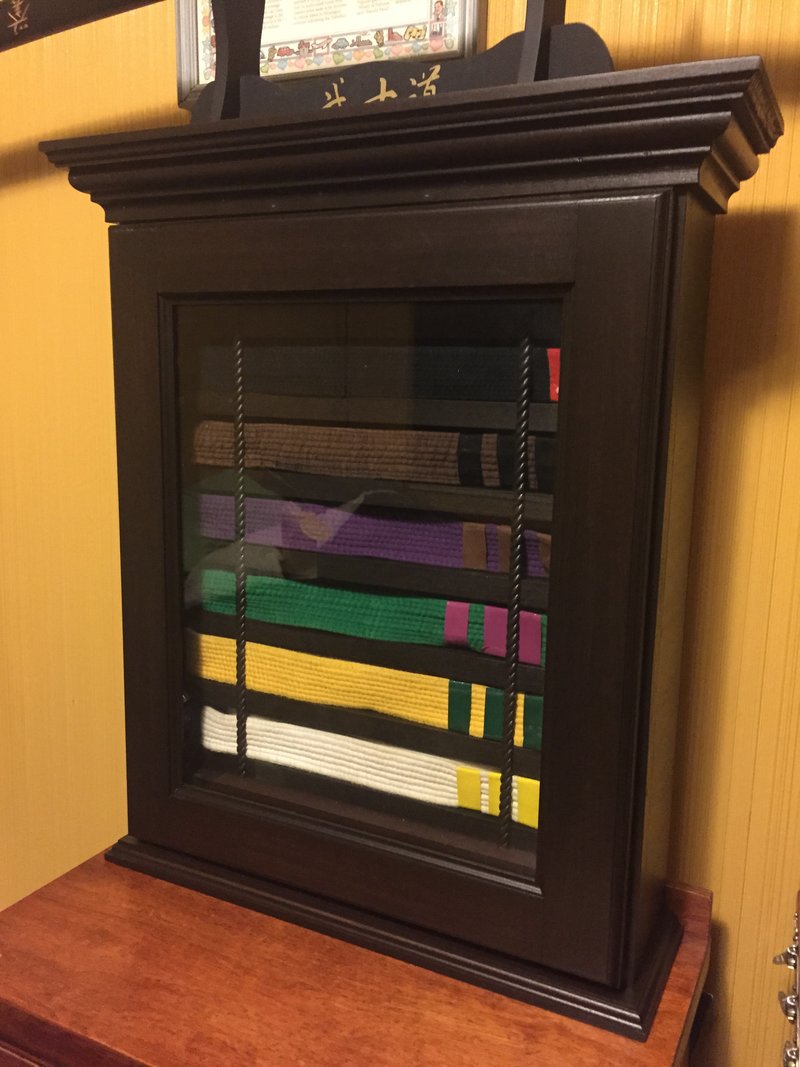 ---
5 belt premium model belt display rack - Custom stain color and trim for Thomas Rozdzynski of ROL Academy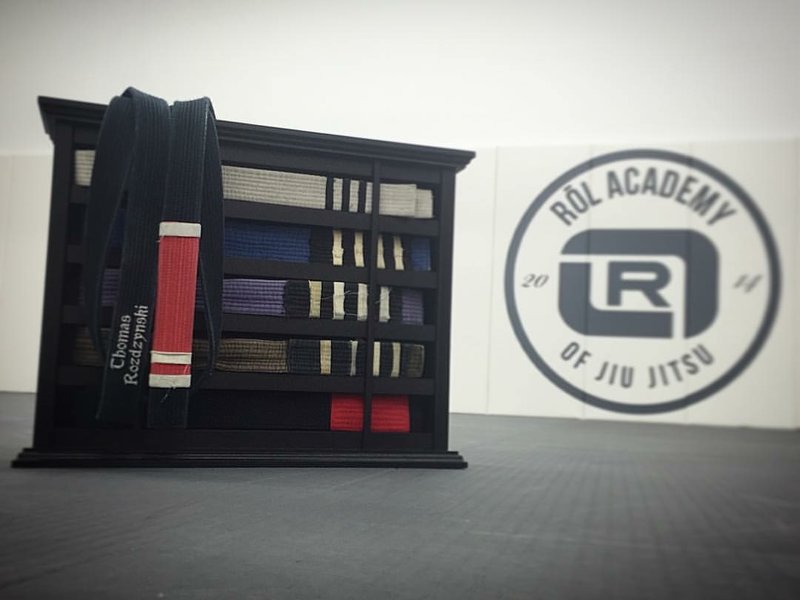 Example Pricing Elite Model Custom Wood Species
$360  -  Oak 5 Belt Elite
$440  -  Oak 10 Belt Elite



$400  -  Maple 5 Belt Elite



$480  -  Maple 10 Belt Elite



$425  -  Cherry 5 Belt Elite



$550  -  Cherry 10 Belt Elite



$550  -  Mahogany 5 Belt Elite



$675  -  Mahogany 10 Belt Elite



$530  -  Walnut 5 Belt Elite



$655  -  Walnut 10 Belt Elite
Example Pricing Premium Model Custom Wood Species
$220  -  Oak 5 Belt Premium
$260  -  Oak 10 Belt Premium
$220  -  Maple 5 Belt Premium
$260  -  Maple 10 Belt Premium
$260  -  Cherry 5 Belt Premium
$310  -  Cherry 10 Belt Premium
$300  -  Mahogany 5 Belt Premium
$380  -  Mahogany 10 Belt Premium
$300  -  Walnut 5 Belt Premium
$380  -  Walnut 10 Belt Premium
Example Pricing Poplar Wood Premium Model for Custom Number of Belts
Shipping Charges to be determined
$225  -  6 Belt Premium
$235  -  7 Belt Premium
$255  -  8 Belt Premium
$265  -  9 Belt Premium
$275 - 11 Belt Premium
$285 - 12 Belt Premium
Example Pricing Poplar Wood Elite Model for Custom Number of Belts
Shipping Charges to be determined
$350  -  6 Belt Elite
$360  -  7 Belt Elite
$385  -  8 Belt Elite
$395  -  9 Belt Elite
$450  -  11 Belt Elite
$460  -  12 Belt Elite